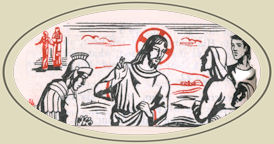 I was embarrassed last week to realise that I had advertised the wrong feast - namely not the second Sunday after the Epiphany but that of the Holy Family. Apologies for this. All Masses offered were the "correct" ones.
This Sunday is the third Sunday after the Epiphany and we have three Masses:
11.00 a.m. Sacred Heart, Broughton Hall, Skipton
12.30 p.m. St. Joseph's, Pakington Street, Bradford
4.00 p.m. St. Anthony's, Bradford Road, Clayton, Bradford
The sung Mass at St. Joseph's on Sunday will be followed by the prayer for the queen and the prayer for the Church. Recessional hymn - Faith of our Fathers.