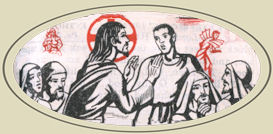 Masses for this weekend - already the third Sunday of Lent.
Following the astonishingly beautiful Gospel recalling the Transfiguration last week, this Sunday's Gospel is much harder to understand and demands our reading and thinking as well as our hearing, wondering and imagining, I am looking forward to Father Abberton's sermon about this week's readings.
Sunday Sacred Heart, Broughton Hall, Skipton. 11.00 a.m.
St. Joseph's, Pontefract Road, Castleford. 3.00 p.m.
St. Anthony's, Bradford Road, Clayton, Bradford.
BD14 6HW
4.00 p.m.
Unfortunately I couldn't get to the Mass at Broughton on Friday morning which was offered by Bishop Schneider but our Mr O'Dowd was able to attend and has sent me some photos. When I transfer the images in a compatible format I'll post them on this blog. Bishop Schneider is in Warrington tomorrow and I look forward to reading what he says.
I only very recently learned of the death of Mrs Winefride Lynch (Pickles) who before her illness was a regular attendee at many of our Killingbeck Masses. May she rest in peace.