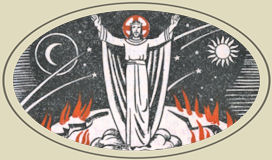 My annual lament at how quickly the first Sunday of Advent seems to come round! The older I get the faster things seem to come round.
This Sunday we have three Sunday Masses:
11.00 a.m. Sacred Heart, Broughton Hall, Skipton
12.30 p.m. St. Joseph's, Pakington Street, Bradford (This is a sung Mass)
4.00 p.m. St. Anthony's, Bradford Road, Clayton, Bradford
Advent is a season of repentance, "Do penance for the kingdom of God is at hand" and the Advent liturgical propers express this spirit of prayer and mortification - the Gloria is omitted, but the gloom of the penitential aspect is lightened by the joyful expectation of the Nativity of the Lord.
I have been asked about when Masses at Christmas are and so here is the list of Masses fulfilling the obligation in the EF:
Christmas Masses:
Christmas Eve - 11.30 p.m. Sacred Heart, Broughton Hall, Skipton
Christmas Day - 11.00 a.m. Sacred Heart, Broughton Hall, Skipton
12.30 p.m. St. Joseph's, Pakington Street, Bradford